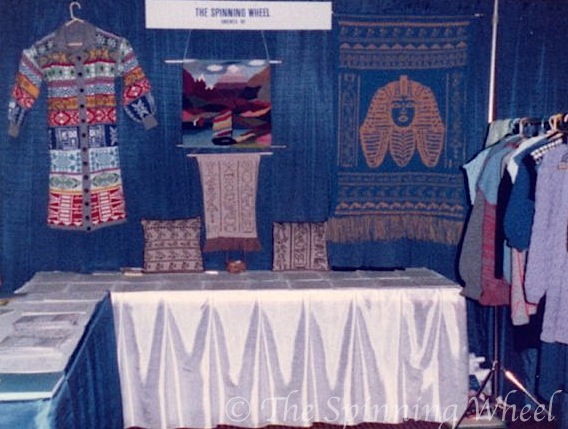 The Spinning Wheel was established in 1986. Our goal has been to provide personal attention and high quality products to each of our clients. Our success has been attributed to meeting these goals through our product line, method of instruction, and customer support. Each client is handled in a friendly and professional manner, whether in person or by mail. THANK YOU for visiting our site. We hope you will choose to become one of our valued clients.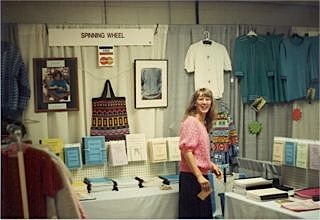 Recognized Instructor/Author/Certified Master Machine Knitter
Darlene started The Spinning Wheel recognizing the need for instruction and patterns written for beginner machine knitters. "Machine Knitting instruction is my specialty" became her motto. She found a method of writing that is easy to understand and meets the needs of knitters, beginner through advanced, making even advanced and complicated techniques look easy. She created designs for use with the electronic machines that required no book purchase to be useful. This experience shows in how she approaches the digitizing of embroidery designs and her current line of quilt pattern projects. Darlene has been a featured knitwear designer/instructor at International Machine Knitting seminars and workshops nationwide. She has written numerous magazine articles and sheet patterns, was a staff writer for two publications and has published an extensive line of machine knitting books. Darlene is a recognized Certified Master Machine Knitter, served as a Committee Member on the Master Machine Knitting Program Committee and is currently a designer-teacher member of The Knitting Guild Association (TKGA).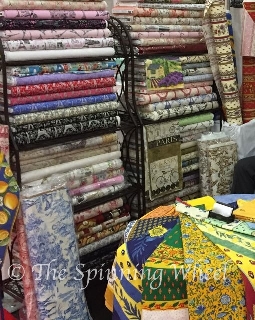 Our Journey
Fabric colors, yarn textures and notions have always inspired my creativity. I love to combine techniques, textures and embellishments into my designs to keep them fun and interesting. As a knitwear designer I'm able to create garments from a ball of yarn with the vision of a stitch design. As a quilter and seamstress I love working with French fabrics. They make me happy!
Machine knitting instruction and design was our business. Then one day the knitting machine industry changed drastically for us. The knitting machines we wrote all of our specialized instruction for and sold where discontinued by the manufacturer. Yarn companies we designed with, were distributors/dealers for also went out of business. As a result we had to step back and rethink what we were going to do. Knitting instruction and design was the basis of our business so we developed patterns written for hand knitters, started teaching locally and expanded our hand knitting supplies. Then after returning from a trip to France I had a quilt design with a specific color palette in mind. I searched everywhere but couldn't find the fabrics I wanted. My quest for those fabric is what started me on this creative French inspired adventure. I love Provencal colors, natural fibers and the French Culture. This inspires my use of color and design throughout my shop. My experience in design and fiber usage offer classic designs that highlight the beauty of the fibers & fabric. Our timeless designs are stylish, utilitarian and comfortable when worn or carried. If you choose to purchase for yourself or for some special, Merci Beaucoup!
We continually search for yarns, fabrics, and gift items that we think our clients will enjoy. You may find lavender flowers, lavender oil, soap, dish towels or various other items here at Chez Darlene. Who knows? Thank you for visiting!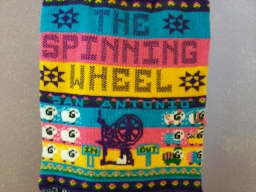 What can you expect from The Spinning Wheel?
High quality quilt weight cotton fabrics with a French twist for sewing, embroidery and quilt piecing.
Specialty & vintage yarns that provide a very tactile knitting experience.
Quilting notions & rulers that help increase precision and/or speed.
My favorite quilt battings for hand or machine quilting because they have a wonderful hand to them.
Machine Embroidery design collections, stabilizers and threads that will help you create beautiful embroidery results.
Easy to follow patterns that are focused on the use of color, function, fibers, and finishing.
Fun instructional classes where you can learn to make new projects, learn about new techniques & supplies.
Meet & share projects with friends who have similar interests.
Unique handcrafted gifts you will enjoy.
Great customer service with expedient shipments because I know you want your order quickly.
The bag above was knit for me by a friend and student. It shows sheep going into The Spinning Wheel unclothed and coming out fashion forward. Our goal is to make creativity fun and easy!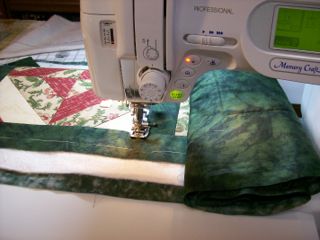 Ready Made Product Line
Professionally handcrafted products made with high quality yarns and fabrics. Designs focused on use of color, function, fibers, and the quality hand finishing. Aprons, Market Bags and Insulated Totes are made with 100% Cotton. They are sewn with Egyptian Cotton Thread. We use a 50%Cotton/50% Bamboo Blend Batting, Made in the USA, for our Market Bags.